#RichKids' Dorothy Wang catches us up on the new season and tells her side of the story
Let me begin by saying that this is definitely not how I wanted to start off Season 3 or my "golden year."
Anyone that knows me or is involved in the show knows that I hate all the petty fighting and drama, and I actually thought not saying anything during lunch in Malibu would be my best bet in avoiding the impending #jonnydrama due to not being invited on the trip. Boy, was I wrong!
More: How #RichKids' Morgan Stewart really feels about her haters (VIDEO)
Let me address my birthday
At the risk of sounding overly dramatic, this really was the worst birthday of my life. I will never forget how I felt that night. I remember my initial "upsetness" (a word I use often) was that everyone was so mad at me for the whole week and I had no idea. I just felt so dumb. There I was wide-eyed and looking forward to my birthday dinner with my friends, while all along they were hating on me and plotting a group confrontation.
The craziest part was that they kept on bringing up random, different issues against me. First, it was that I told Jonny about E.J. and the Bahamas. Then, after it was revealed Roxy had actually told Jonny about the Bahamas, they were mad because I had apparently told Jonny they were talking shit about him, and I wasn't. But once it became apparent that I did not text that to Jonny, the accusations shifted again, and then the real issue was that I'm not a good friend to Jonny and the truth must come out! I remember asking over and over what they were actually mad at me for — what did I actually do wrong — because it felt like they were just throwing 18 different things out there and hoping one would stick and succeed in making me look bad or expose some sort of wrongdoing at my own birthday party.
As hard as it is for me to admit, I guess my friends were out for blood that night and I was the rarest cut on the menu. #foodiejoke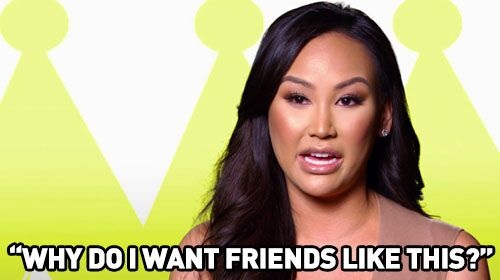 What happened at my birthday dinner genuinely irked me to the core and I was manic for the rest of the week. I remember my birthday dinner was on Tuesday, there was a photo shoot on Thursday and we left for the Bahamas on Sunday. By the way, despite one of the many claims made in this episode by my friends, I am the least forgetful person there is. I remember everything — exactly what was said, how it was said — which is a terrible trait to have if you're in my group of friends, because things always seem to get repeated or portrayed inaccurately (#JonnyFacts). I was a mess all week, thinking, rethinking, analyzing and reanalyzing everything that went down and why it did. To all my loyal Twitter and Instagram followers, you guys now know why there were so many emo, reflective posts during this time.
P.S. The dress comment: The reason I was so surprised and commented on Roxy's dress was more out of shock that the designer, whom we are both very close to, would let her borrow the same dress I did — twice! And one of the times I wore it was with Roxy, at her house for a photo shoot we did together.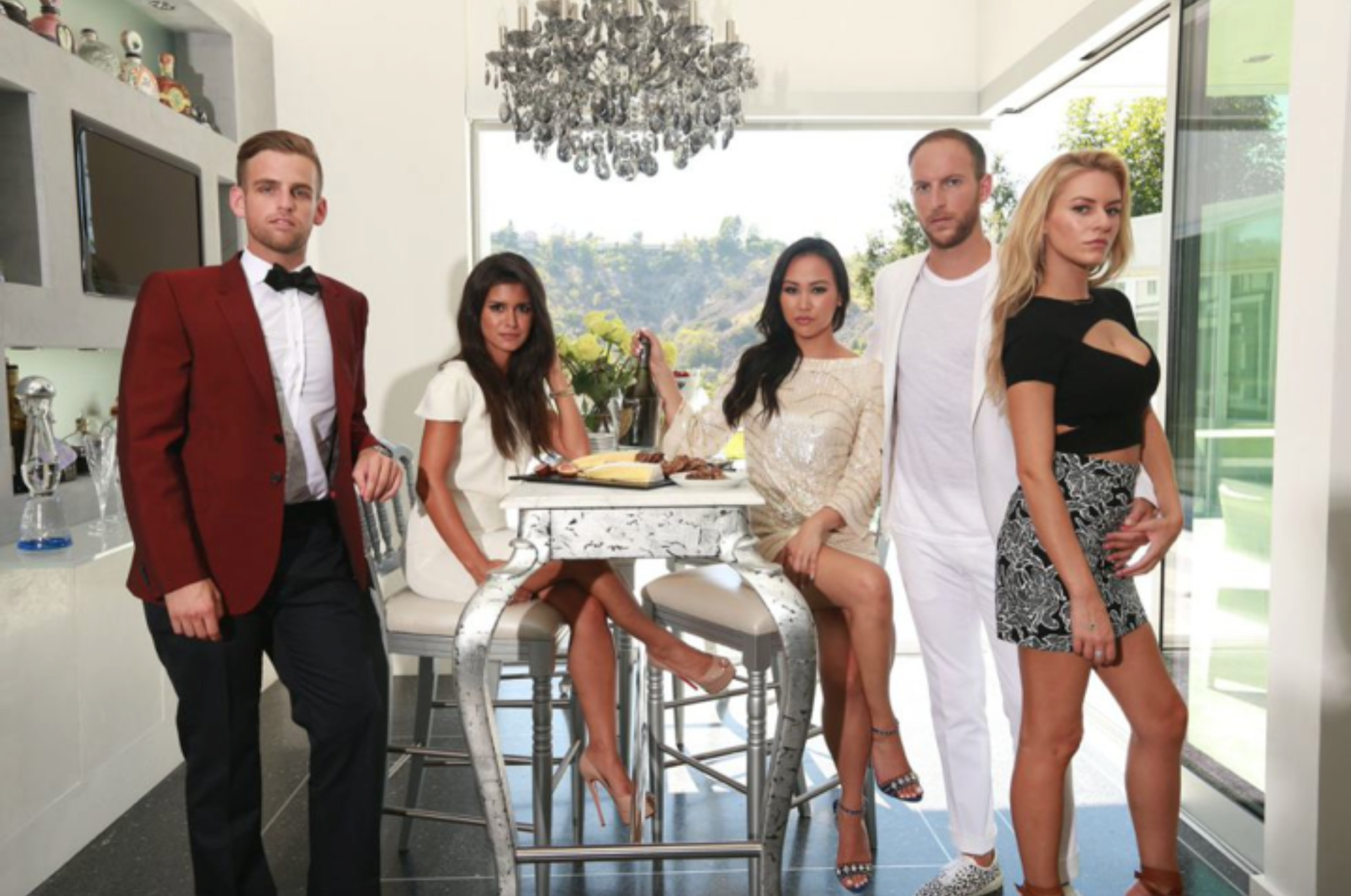 OK, and now on to the Bahamas
I have to admit, as much as I was dreading going to the Bahamas, I'm so glad that I did.
While it was terribly awkward at first, it forced Morgan and me to speak for the first time in a week. The conversation was definitely overdue, but it's true what they say: Better late than never. After that moment on the boat (boat, not yacht; I feel you, Brendan), I think we really got a deeper understanding for each other and truly committed to rebuilding our friendship. We are closer now than we've ever been, and it truly started from having that very open and honest conversation with each other that day.
To be honest, I was a little too consumed with my personal issues to really fully think much about or engage fully with Taylor and Bobby. I have to say, as wary as I am of new people, it was nice to have them around and it definitely lowered the concentration of people I was fighting with on the trip. I did want to reach out to Taylor, though. I know we are a hard group to break into and I definitely know how it feels to have a conflict with Roxy. As strange as it sounds, I felt like we were in the same boat in many ways and I just wanted her to know that she wasn't alone. I honestly didn't know if we would have a relationship once we got back home, but she was really sweet and we were all on this beautiful island together, so I felt we should all be comfortable and have a good time.
As much as I was avoiding it; the moment came when I was summoned by Roxy and Jonny to talk. I was very nervous and, honestly, scared. As you know, our conversations tend to get aggressive, and honestly, I was so emotionally drained and still shaken up I couldn't handle another fight. It took all the energy and strength I had (thank God for the free-flowing Miami Vices) to muster up the courage and stand up to them and say my piece. Even though my nerves reared their ugly head and my voice was shaky and I was stuttering at times, I'm proud of myself for being able to tell them how I felt and that how they acted was not right. I guess we may never see eye-to-eye on apologizing just to make something go away, but admittedly, I just wanted to get out of that conversation and move on with our lives.
I want to say that I have no problem apologizing — but an apology actually means something to me. I don't usually just throw them around to get out of a situation. When I apologize, it truly means I feel deeply sorry and it's something I won't do again. In this case, I still stand by the fact that it wasn't my intention or my fault that Jonny misread my texts, and didn't clarify with me and then told Roxy, who stirred up everyone else and accused me at my birthday party. They turned it into something it never was and never needed to be, and I'm the one that needs to apologize? Honestly, it boggles my mind but again, I just wanted to get out of that conversation, and they made it very clear that the only way I could was to apologize. Did you notice the clever wording of my apology, though? I still had to be true to myself and what I believed.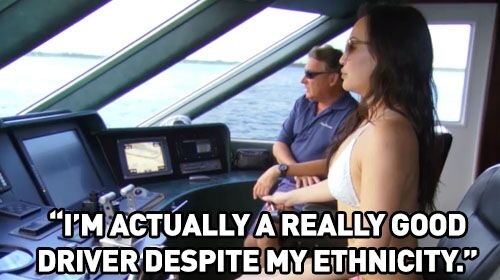 After that, though, the Bahamas trip was all fun, fun, fun! We hung out in the cabanas, went down the slides, frolicked in the ocean and took a lot of successful Instagram photos. E.J.'s appearance was great. He killed it and was a natural in that DJ booth. I had fun being his "hype woman," too. We all ended up having so much fun, and I think it actually turned into our best trip yet. I know it may be confusing, but even if we have problems that aren't fully resolved, we can put them aside and enjoy the good parts of one another. And let me just tell you, as crazy and mean we can be to one another, one thing this group is, is fun. We have been through so much together, and whether we like it or not, we're like family at this point — dysfunctional and extremely frustrating, yes, but stuck with one another (dare I say) for life.
I was fascinated by Caribbean conch. I'd always heard about it on the many food shows I watch and wanted to try the real thing. It definitely didn't get more real or fresh than sticking my hand in that tank and watching the chef prepare it right there. And it was delicious. It's kind of like a crispy muscle or clam, with a natural sweetness like a scallop. Let me just tell you, it makes for a great seviche. I love experiencing other cultures and a big part of that is trying their cuisine.
And OMG, I can't believe that this entire time Brendan had been planning to propose to Morgan! It's so crazy to watch back and see that this was all going on and we had no idea — I found out on Twitter (shout-out to @RichKidsofBH Instagram). I cannot wait until the next episode to see it for the first time with you guys!
Until next week.
#RichKids of Beverly Hills airs Sundays at 10pm on E!